Retro chic: Nokia 808 PureView vs Xperia Z2 photo samples pop up
61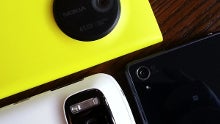 Remember the
Nokia 808 PureView
? The phone arguably started a veritable rat race in smartphone cameras, as it came announced with a gigantic, 41 MP sensor, forcing phone makers to rethink the strategy on their rear snappers. Some latest and greatest Androids now come with 16 MP, and even 20 MP cameras, while Nokia carved a Windows Phone niche among photogs with the Lumia line that carried on the PureView legacy.
Can the oldie Nokia 808 PureView with its Symbian platform take on a fresh Android flagship with a 20 MP camera, like the
Xperia Z2
? If that question has been bugging you, and taking away from your sleep at night, you'd be delighted to hear that someone has snapped a few comparison shots between the Z2 and the 808 PureView. You can find them in the slideshow below, and the photographer's comments are mostly along the line that the shots with the 808 PureView in Auto mode (5 MP) seem less detailed, but more natural than the processed look of the Xperia Z2 photos. The processing, however, makes the Sony's snaps appear sharper, and with more appealing colors, so the author calls it a draw. Do you agree?