Results: Moto G5 Plus or Nokia 6: what'd you pick?
22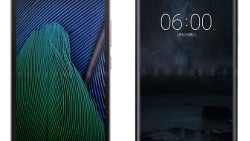 So, Nokia is back with a bang... well with a trio of midrangers that is. The Nokia 6, which was initially only sold in China, has now been announced for global sale, and comes with its own special edition, too — the Arte Black. Meanwhile, Motorola (Lenovo) did what Moto does best this time of year — it announced yet another value-priced smartphone, which made our heads spin — the Moto G5 Plus.
So, long story short, the Moto G5 Plus has a Snapdragon 625, 2 or 3 GB of RAM, 32 or 64 GB of internal storage, has an amazing camera, and starts at $229. The Nokia 6 has a Snapdragon 430 SoC, 3 GB of RAM, and 32 GB of storage (4 GB RAM / 64 GB on the limited edition Arte Black model) and costs about $240 ($300 for the limited variant).
We thought we'd ask you — which phone would get your money? Seems like it's a close race!