Research firm sees U.S. Apple iPhone owners outnumbering Android owners by 2015
49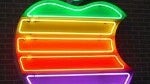 You might remember the scene in the blockbuster hit
Titanic
when ship builder Thomas Andrews is talking to the head of the White Star Line, Bruce Ismay, about the ship sinking. Andrews tells Ismay that the Titanic sinking is a
mathematical certainty
. Based on their own research, the Yankee Group sees the number of U.S. Apple iPhone owners surpassing Android owners by 2015. If the figures provided by them are legitimate, it is a mathematical certainty.
Based on a survey of 16,000 consumers over the past 12 months, the Yankee Group has 50% of U.S. smartphone owners sporting an Android handset with 30% of them owning an Apple iPhone. But there is one stat that shows how Apple will bridge this gap and eventually overtake its rival. First, one survey shows that over the next 6 months, 42% of respondents will be buying an Apple Phone and 42% plan on purchasing an Android model. That is split exactly down the middle, so that stat doesn't seem to help the Cupertino based Apple at all.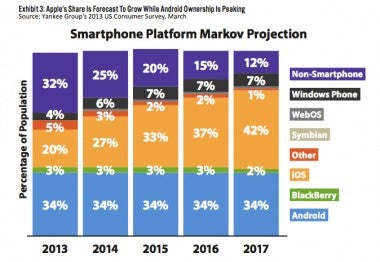 Eventually, the number of Apple iPhone users in the U.S. will overtake the number of Android users
But when you peer into the loyalty numbers, that is where the picture starts to brighten for Apple. Of those current Apple iPhone owners surveyed, 91% plan on sticking with the device while 6% say that they will switch to Android for their next device. That compares with the 76% of current Android owners who will stick with the platform for their next phone. But
18% of current Android users
plan on
buying an iPhone
for their next handset. So that means while 6% of current iPhone expect to make the switch to Android, a whopping 18% of Android users plan on jumping ship to Apple's smartphone.
Based on data from the Yankee Group, 34% of the U.S. population currently owns an Android phone while 20% own the Apple iPhone. By next year, Apple should pick up an additional 7% of the population cutting Android's lead in half from a 14% gap to just 7%. By the time 2017 rolls around, The Yankee Group has Apple iPhone users making up 42% of the U.S. population versus 34% for Android, proving that platform loyalty can make all the difference in the world.
"Think of the Apple and Android ecosystems as two buckets of water. New smartphone buyers — mostly upgrading feature phone owners — fall like rain into the two big buckets about equally, with a smaller number falling into Windows Phone and BlackBerry buckets. However, the Android bucket leaks badly, losing about one in five of all the owners put into it. The Apple bucket leaks only about 7 percent of its contents, so it retains more of the customers that fall into it. The Apple bucket will fill up faster and higher than the Android one, regardless of the fact that the Apple bucket may have had fewer owners in it to begin with."-Carl Howe, VP, Yankee Group
source:
YankeeGroup
(subscription req'd) via
AllThingsD