Report says T-Mobile is the top U.S. carrier; French and U.K. operators dominate the top globally
12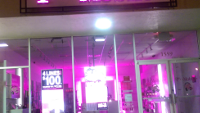 A group called STL Partners released its Mobile Network Experience Index (MobiNEX) which attempts to quantify the "app experience" over 27 mobile operators in seven countries: the U.S., Canada, France, Germany, Italy, Spain, and the UK. The test measured the important drivers of a customer's experience on a wireless operator: download speed, average latency, error rate, and latency consistency (the percentage of app requests that take longer than 500ms to complete).
Each of those four categories were worth up to 25 points each. The final score was computed by merely adding up those scores to get a final tally out of a possible 100 points.
In the U.S., the top carrier was T-Mobile. With its 45 points, it beat out Verizon by 2 points. AT&T was third with a score of 37, followed by 33 for Sprint. While T-Mobile's error score was low (5 out of 25), all of the major U.S. carriers did poorly in this category with Verizon receiving a 4, Sprint a 5 and AT&T getting a 6. T-Mobile ranked the highest in latency consistency, "which measures the proportion of requests made with an app that experience latency greater than 500ms." T-Mobile scored a leading 13 out of 25. Verizon and Sprint scored 11 out of 25, while AT&T finished last with a score of 10 out of 25.
When it comes to download speed, Verizon led the way with a score of 14 out of 25, T-Mobile was next with 12 out of 25. AT&T scored 8 out of 25 and Sprint was last with a score of 5 out of 25. Latency consistency measures the time it takes to press a button on the screen, and having that input result in a completed action. In this category, T-Mobile had a leading 14 points followed by Verizon and Sprint's 13. AT&T scored 12 out of 25.
The U.S. carrier's scores palled in comparison to their European brothers. Three French wireless operators were at the top globally as Bouygues Telecom ranked as the top carrier in the world with a score of 76. Free and Orange were numbers two and three with scores of 73 and 70, respectively. EE (65) and Orange (61), both operating in the U.K., rounded out the top five. T-Mobile placed 18th globally with Verizon right behind. AT&T was 22nd and Sprint 24th.
source:
MobiNEX
via
TmoNews