Report: Samsung is the second-biggest R&D spender in the world for 2014, Apple not in Top 20
51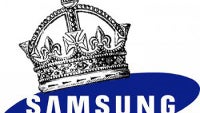 A recent research informs us that Samsung, the
rather-troubled
, yet still-dominant smartphone maker, smokes all of its rivals when it comes to R&D expenses - just in 2014, the South Korea-based giant has reportedly spent some $13.4 billion in 2014 for the research and development of new technologies.
Samsung is the biggest spender among the IT-oriented companies when it comes to innovations and holds the second spot among all global companies, surpassed only by the Volkswagen corporation. This was revealed in a research conducted by the Strategy& analyst company, which sorts global companies in accordance to how much they've spent on research and development for the year.
Interestingly enough, Sammy has kept its top-tier spot for a second consecutive year - back in 2013, it was once again the biggest spender among the IT-related manufacturers, having spent $10.4 billion. Intel, one of the larger chipset manufacturers, comes in third thanks to the $10.6 billion it has spent on R&D in 2014.The only other IT-centric companies that have made their way to Strategy&'s 2014 R&D report are Microsoft and Amazon, residing on the 4th and the 14th spots, respectively. On the other hand, Apple, Samsung's gravest enemy on the market, is nowhere to be seen in the big R&D spenders' list.
Samsung debuted some rather innovative devices in 2014 - the
Galaxy Note Edge
with its intriguing display immediately pops into mind. Hopefully, the giant will be able to enjoy the fruits of its R&D labor in 2015, a year that will certainly be of great importance for the troubled manufacturer's well-being on the smartphone market.