Report: Microsoft's foldable tablet to focus on note-taking, may be released in 2018
9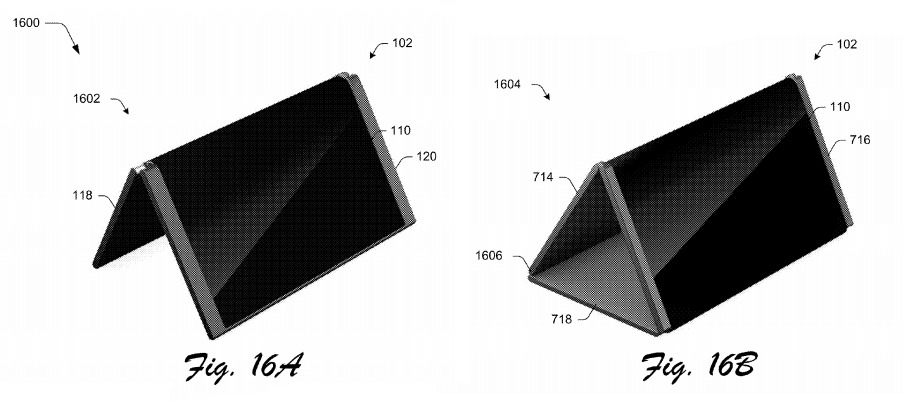 Images from one of Microsoft's foldable device patent applications
A lot of ink has been spilled in the topic of Microsoft's spectacular failure in the smartphone realm, though one would imagine such musings would stop now that
Windows 10 Mobile is pretty much officially dead
. And yet, there's that one rumor that has simply refused to die: the one about the
foldable Surface device
that's been in development seemingly forever.
But if a new report from
Windows Central
is to be believed, the reason as to why it persists is simple: Microsoft is actually working on such a prototype. Commonly referred to as "Andromeda" (though this doesn't appear to be its official title), the device is said to be a smartphone/tablet hybrid not unlike the brand-new
ZTE Axon M
.
But we already knew as much: Microsoft's
numerous
patent
applications
on the subject have been really helpful in showing the direction Microsoft would to take with such a device. But the new report sheds some light on Andromeda beyond just its form factor, and things sound pretty wild.
Even though the device is said to offer telephony capabilities, those won't actually be the focus of the user experience. Instead, Microsoft will strive to make the device something akin to a virtual notebook, with emphasis on digital inking. Some prototypes reportedly open up into a special note-taking app designed to look like a physical notebook, whose contents will be synced with the company's OneNote service.
An unreleased 2009 Microsoft concept, known as the Courier, shows what such a device might look like
Andromeda will likely be powered by an ARM processor (which is the architecture pretty much all smartphone processors use), but will run a version of Windows 10 on top of it. Which may sound problematic at first (because, you know,
apps
), but it seems Microsoft won't actually try to sell the device as a smartphone/tablet alternative at all.
Instead, the company will try to carve out a brand new niche of digital note-taking devices, something which its peculiar form factor will be quite well suited for. As such, there's a fair chance the target demographic will be the enterprise, schools, and such — markets where such a device may actually be a useful tool, instead of just a gimmick.
But it's worth mentioning that even if Microsoft actually has a bunch of Andromeda prototypes lying around, there's no guarantee any of them will become an actual product — after all, the company has been known to cancel innovative products before. But if it does, the internal timeline for such a release is said to be "sometime in 2018," which may or may not signal that the project is nearing its completion.