ZTE Axon M hands-on
19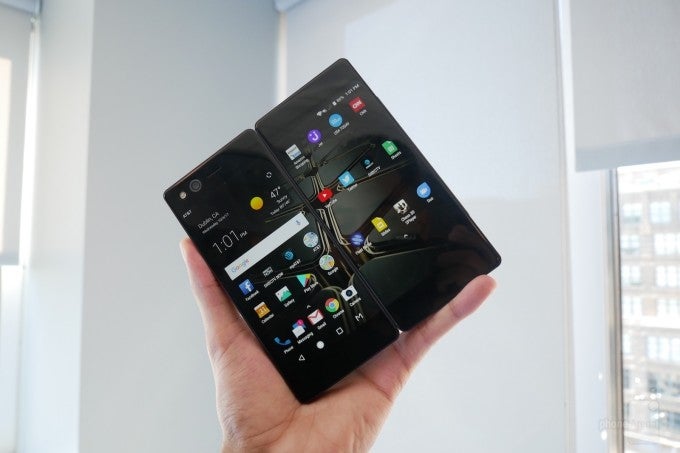 Guys. Remember the Kyocera Echo? It had two screens, and flipped together to form one. You said you vaguely remember it? Okay, well here's a device that should jog your memory: The Axon M by ZTE.
It was a novel idea which didn't quite pan out in 2011, when the Kyocera Echo launched, but now, in 2017, where we have rumors and concepts of foldable smartphones increasing by the day, perhaps it's time for a revisit to this form factor. After all, Android is much improved since then, as are hardware technologies. Much of how the Axon M works is based on built-in Android features which have evolved since the advent of multi-screen and a tablet version of Android – two huge advantages the little green robot was unable to afford the ill-fated Kyocera. We spent some time with this quirky device to get a feel for the first modern dual-screen device to market. Ultimately, we had to see if the time of the foldable smartphone is now.
Design and Displays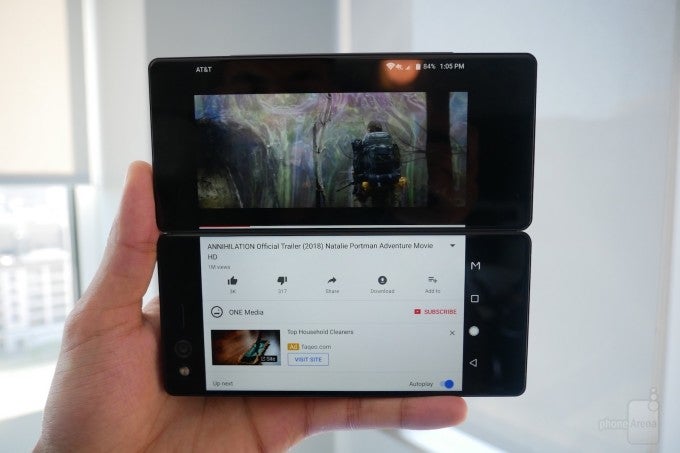 Built of a sturdy metal and glass construction, the Axon M has a sturdy feel and weight to match – 230 grams to be exact, which is about 30 grams heavier than the iPhone 8 plus. Of course, this weight is distributed a bit differently. In hand, and folded shut, the M feels heavier than when opened, and gripped with two hands, as will commonly be the case. Neither position had us too bothered by the weight, though.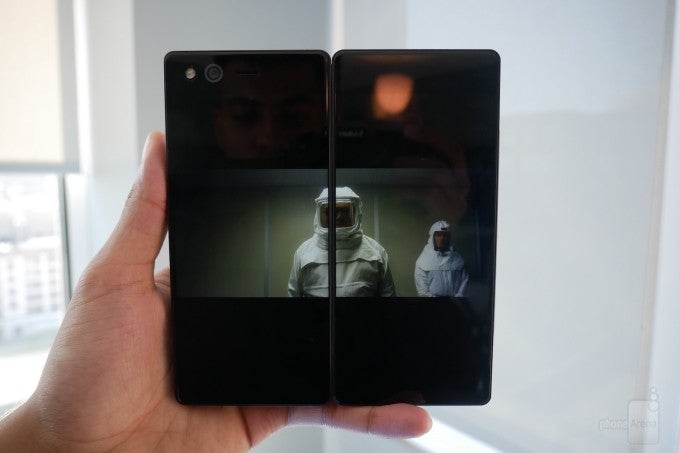 Unfolding the device, you can leave it in a tent mode for presentations or games, as the hinge provides enough resistance to stay put at just about any angle, but folding it out completely will give a satisfying click and stay flat.
The M pairs two TFT LCD's with full 1080p resolution to create a 5.2-inch display, boasting 426 pixels per inch. Fully extended, the display has an aspect ratio of 1.78:1, so although YouTube videos will be large, they will likely have to do some stretching or cropping. Dual speakers will aid the video-watching experience though, as well as a dedicated DAC and amplifier which can pick up HD quality voices from up to 20 feet away.
Interface and Performance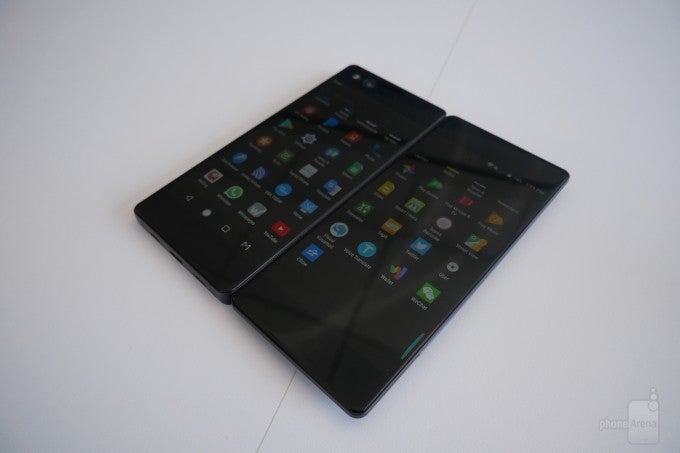 Coming out of the box with Android 7.1.2, the Axon M enjoys the benefit of native dual-screen support in Android. Given that, ZTE offers three different modes in which you may use the phone. In line with Androids typical navigation buttons is a fourth button, called the Axon M button. Tapping this allows you to toggle between the three modes, labeled AA, A, and AB. The letters aren't acronyms but rather depictions of the screens capabilities. For instance, AA creates a mirror mode, where each screen shows the same thing side by side. The mode labeled with one large "A" denotes the full-screen mode, where both displays form one large, continuous screen. Finally, AB mode allows the user to do traditional dual-screen multitasking with two separate apps, but with the added ability to run two instances of the same app. Copying and pasting from one document to another just got a lot easier.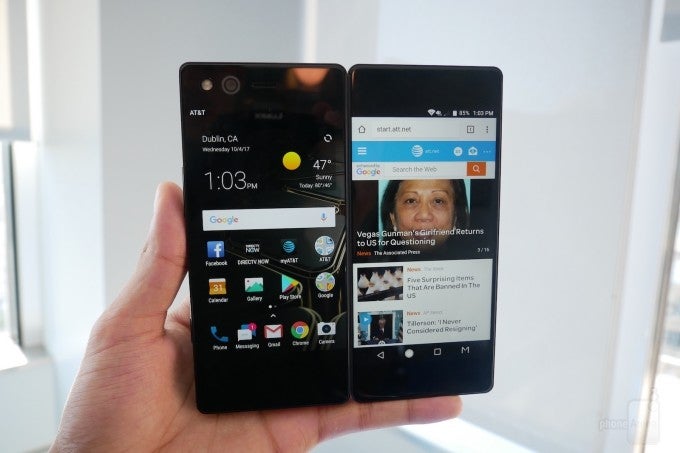 "A" mode will be a great tool for simply gaining more real estate, whether that be to scroll through Facebook, watch videos, look at pictures, or consume content of any kind. Emailing or texting in this mode will lend the entire bottom screen to be used as a keyboard, while the top can scroll through the conversation independently. A similar effect is achieved with YouTube, which allows you to watch the video up top, and scroll through the comments or related videos on the screen below. This can also work well for certain games (think board games) while the AA, or mirror mode, may be better suited for games like Battleship, in tent mode of course. Since games like Battleship aren't natively made to run on dual-screens, you'll simply be mirroring the game as it presents each player their turn, but the general effect will be as though each player has their own screen. Mirror mode can also be used for conference calls, also in tent mode, or presentations. Then, of course, AB mode has the same myriad use cases that multitasking in Android has always afforded you, but now with screen real estate to rival some of your favorite phablets.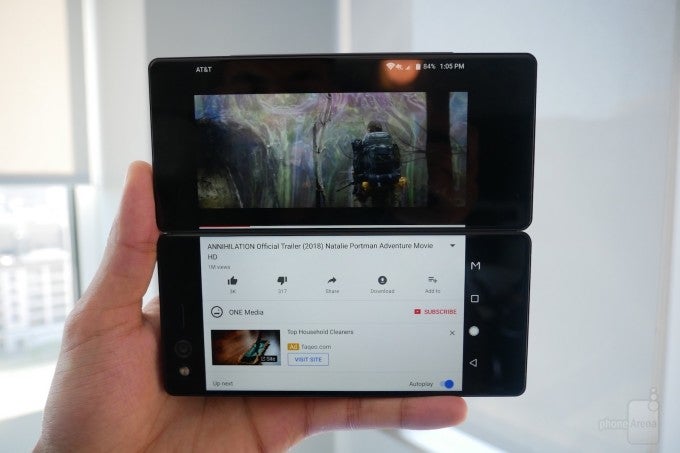 ZTE has even thrown in some dedicated gestures for the various modes, such as that found in AB mode where a three-finger swipe across both screens swaps the positioning of the two open apps, or simply moves the app over if only one is open at the time. A swipe across the bottom with one finger can also extend your half-screen app to full-screen. Gestures seemed to respond well, and we can certainly see their usefulness, even in our preliminary time with the device.
On the performance side of things, the device seemed to move through all the above situations quite well. Powered by the Snapdragon 821 and 4 gigs of RAM, this shouldn't be too much of a surprise, though some of the transitions between dual-screen modes could be a bit snappier.
Camera
The camera on the Axon M sits at the front of the device while in clamshell mode which means this 20-megapixel snapper functions as both the front-facer, and rear-facing camera. F/1.8 aperture, image stabilization (photo and video), and phase detection autofocus have us hopeful for some decent low-light performance. Of course, we'll have to do some deeper digging to find out.
Expectations
Looking at the Axon M as just a regular device, the spec sheet doesn't look too shabby. SD821, 4 gigs of RAM, and 64GB storage make us feel like we're dealing with a near-flagship-level device, while the glass and aluminum body further reinforce this feeling. Throw in a 20-megapixel sensor, 4K video recording, and USB-C with Quick-charge 3.0 and we're feeling pretty good about the Axon M. Of course, then there's the form-factor. As a clamshell, it's a narrow device that feels like its packing a little more than most phones, but that's obviously because it is. Unfold it's dual-1080p screens and welcome to a device that offers more. More video, more text, more multitasking, and more capabilities. All of this is built into Android's framework, and requires no special code from app developers – though it would be nice to get a full-screen controller for games. Regardless, the software is capable. The hardware? Check that off too. Selling for about $730 ($24.17 over 30 months on AT&T) Perhaps now is the time for the foldable smartphone.