Report: Low yields force TSMC to revert to 8 inch wafers for Apple iPhone 6 fingerprint sensors
3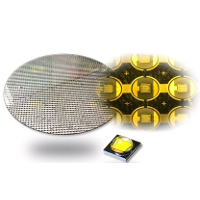 According to a published report on Tuesday citing industry sources, Apple wanted TSMC to produce fingerprint sensors for its next-gen Apple iPhone using the silicon slinger's 12 inch facilities and 65nm process. But the low yields associated with this technology has forced a change. Apple has decided to go with TSMC's 8 inch processing in order to get the kind of yields it needs to produce a large number of handsets.
Had TSMC and Apple gone with the 12 inch WLPs, TSMC would have produced the entire chip, including the back-end testing and packaging, in-house. With the move back to 8 inches, TSMC will work on the front-end while back end packaging will be subcontracted to firms like Xintec and China WLCSP.
Yield rates for 8 inch wafers exceed 95% while they drop down to between 70% to 80% for the 12 inch wafers at TSMC's Southern Taiwan Science Park. While the
Apple iPhone 5s
was in its early days of production, yields on the 8 inch wafers were low enough to hinder production. Eventually, TSMC should be able to pick up yield rates on the larger wafers which will save money for Apple.
source:
DigiTimes