Report: Google decides not to open a retail store in NYC
5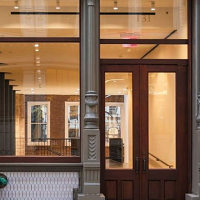 According to a published report, Google has decided not to open its own retail store in New York City. The store would have sold Android handsets and tablets, Chromebooks and other products. No doubt that Nexus devices would have been heavily promoted. Back in March of 2014,
rumors circulated about a Manhattan based store for Google
, and the company allegedly ended up leasing a 5442 sq. foot building in SoHo.
The actual address is 131 Greene Street, and the interior looks ready for a cool tech brand to use it. Pictures of the interior show brick arcs, steel columns and plenty of space to showcase the items that Google was going to sell. Keep in mind that while Google is supposedly linked to this building and the renovation, the company has never made an announcement officially stating that it had leased the property.
But after reportedly spending $6 million to renovate the space, Google has apparently scrapped the project and is looking to sub-lease the location at $2.25 million a year. If this report is legit, it isn't clear what caused Google to back away from opening the store. But this is not the first time that the company has been linked to a retail project that it walked away from.
Back in 2013, there was talk about
Google opening dedicated stores to sell Google Glass
, and to train buyers of the wearable on how to use the device immediately after purchase. Later that year,
a barge docked in San Francisco Bay with a building on it
, was thought to be a floating Google Glass store. Eventually, it was thought that the project would be for a physical Google Store. Whatever Google had in mind, the plans never reached fruition and
the Barge project ended up in the scrap heap
.
Is Google jinxed when it comes to retail, or is it just something that they aren't focused on?
source:
Crain's
via
AndroidCentral