Google's "mystery barge" to be an interactive space to showcase for Google Glass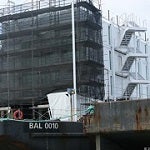 A couple weeks ago, we shared
the intrigue behind a barge that was docked in San Francisco Bay
with a large building that had been erected on top.
No one was sharing anything about what the purpose of the facility was, but one thing that was certain was that it belonged to Google, and the company had gone to great lengths to conceal the plans for the floating building.
Some guessed it was a floating data center, with arrays of antennas to gather electronic data on surrounding world. Others guessed it would be some massive retail space, but that theory died quickly because there are strict rules about building facilities that take up space in the water (by that, we mean it is strictly illegal).
The San Francisco based barge, along with its peer on the east coast of the US will, in fact, be luxury event spaces which will host invitation-only guests to see the wonders of Google Glass and other technology ventures the search giant is working on.
What good is a luxury event space without a party deck? Well, Google is on that game too as these floating facilities have dedicated party decks to the visitors can have a good time. The modular construction of these buildings allows for reasonably easy construction and disassembly, enabling the units to be transported by ship or rail to just about any destination desired.
We still do not know much more about the building, how it will be powered, or if it can be built to varying configurations to accommodate certain locales. Knowing Google though, we suspect you will not see gasoline or diesel generators accompanying these barges to keep the lights on.
source:
CNN