Replaceable battery or unibody design - which one do you prefer?
99+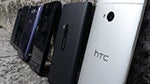 Apple started the trend with sealed batteries in its iPhone franchise, and a lot of manufacturers are following suit now with pretty unibody designs that don't give us access to the battery compartment on the go.
HTC with its sleek aluminum
One
comes to mind from the latest crop, the
Sony Xperia Z
whose battery had to be sealed to likely achieve the waterproof status of the handset, as well as the flagship
Lumia 920
from Nokia's portfolio.
Actually the ones still bucking the trend from the top tier makers are Samsung and LG, which always provide a removable back cover that gives you access to the battery plus a microSD slot for storage expansion, making them the perfect handsets for those who look for flexibility in that regard.
Still, we were wondering how many people actually would carry a spare charged battery with them at all times, and to what extent the presence of a sealed battery compartment in the latest unibody designs would hinder their purchasing decision towards those handsets.
Recommended Stories