Tarot and Magicstick outed as bite-sized portable chargers with funky design
7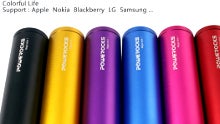 Phones with glorious unibody designs and sealed batteries are proliferating these days, and if you are not an office type that always has an outlet nearby, being out and about the whole day can leave you out of juice in less than perfect conditions.
Here come the
Tarot
and
Magicstick
- credit card and thumb drive-sized battery chargers you won't be inconvenienced to always carry with you in your wallet or on your keychain, and top up your smartphone when it is ready to give up the proverbial ghost.
Granted, the capacity for the Tarot is just 1500 mAh, but it will be enough to juice more than half a charge into most modern handsets, and at 0.28" thick, will go unnoticed in your pocket, unlike the larger capacities backup chargers. The Magicstick ratchets it up with 2600 mAh of juice, and at just $35 for each at Amazon and the like, those two portable chargers can be considered a bargain.
Of course, if your phone had a replaceable battery in the first place, you could just swap its own juicer on the go, instead of bothering to top it off, but that's the price to pay for those sleek unibody designs it seems.