Remastered edition of Sonic the Hedgehog 2 is now available for iOS, Android will follow soon
7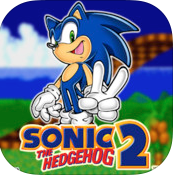 The Sonic the Hedgehog franchise is among SEGA's most successful game series ever. The spiky-haired critter has been the company's mascot for more than two decades and is one of the reasons for SEGA's success during the early era of video game consoles. Sonic is one of the most famous video game characters in the world. The second title of the series, Sonic the Hedgehog 2, which was released back in 1992, sold more than 6 million copies and became one of the most successful SEGA games ever. Yet, when an an iOS version of the game was released back in 2010, it wasn't very well accepted, because its visuals and controls weren't well-optimized for the touchscreen.
Well, this wouldn't bother fans of the blue blur anymore. An updated and remastered version of Sonic the Hedgehog 2 has just been released for iOS. The classic title has been remastered by the same team of developers, who enhanced the iOS and Android versions of Sonic the Hedgehog 1 back in 2011. Christian Whitehead and Simon Thomley rebuilt Sonic the Hedgehog 2 from scratch with the aid of their custom-build Retro Engine. They have mostly focused on optimizing the touchscreen controls of the game, but it looks like the graphics of the title have been revamped as well.
The familiar gameplay will still require you to collect golden rings and various bonuses while you endlessly jump and run. You'll have to prevent your archenemy, Dr. Robotnik, from completing his evil plans and taking over the world. Fans of the spiky-haired critter will be more than delighted to hear that the remastered version of Sonic the Hedgehog 2 will feature the Hidden Palace Zone. Although planned, the mythical level has never made it to any of the official releases of the game for the conventional gaming consoles.
If you are sporting an iOS device and you've already bought the game, the remastered edition will be available as a free update. Otherwise, if you haven't bought the classic jump'n'run game, you can follow the link below and get it for $2.99.
An Android version of the remastered game is expected promptly.
Download: Sonic the Hedgehog 2 (
iOS
)
source:
TouchArcade