Regardless of whether you're getting the LG G5, are you excited about the extra modules?
65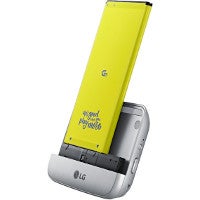 In the week before MWC 2016,
we asked you which phone
you were most excited about, given the plentiful rumors circulating the web. And while the Samsung Galaxy S7 and Galaxy S7 edge together accounted for over 39% of the votes, the LG G5 came out on top with a ~44% share. For the most part, we imagine that the modular design of the device had a lot to do with the excitement around it.
And so, MWC came and went, and leaksters didn't disappoint: the LG G5 was exactly as we pictured it, complete with that weird removable bottom allowing for various other add-ons—called LG Friends—to be used. In fact, this modular design is certainly the highlight of the device, and it's just begging the question if consumers are actually interested in picking any of them up. So let's find out, shall we?
Go right ahead and vote your mind in the below poll, and we'll make sure to report back on the results tomorrow. And yes, sure, key variables such as pricing are still missing, but try and separate that mentally. Instead, we're just trying to figure out if you dig the concept, and it doesn't really matter if you're planning on a purchase or not—whether we're talking about the G5 itself, or its "Friends".