Red Bull Photography takes some stunning photos of "two different worlds" with the Lumia 930
13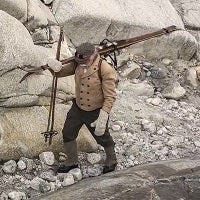 Being able to tout the prowess of the PureView camera is a cornerstone for the Lumia devices. The competition is not sitting still, however, and the cameras that can be found on the other flagship devices are pretty darn good.
That does not mean the camera on the
Lumia 930
is not something special though, and while we watch the Windows Phone platform come into its own, it is pretty cool to see what projects the Microsoft Mobile team and professional photographers take on to show us some amazing pictures.
Shot entirely on a Lumia 930,
Red Bull Photography
teamed up with Marcel Lämmerhirt to grab some great video and photos in Switzerland. Then he wanted to create the idea of presenting an era from a hundred years ago, in a glass box, to contrast with the environment today.
If you cannot connect the artistic representation, or the environmental statement, then simply enjoy the scenery. The Lumia 930 has a capable 20-megapixel camera, packing Nokia's PureView processing magic, and an interface that allows any amount of manual or automatic control across a number of settings.
In our review of the Lumia 930
, we were "pleased, but not amazed." The issues of color accuracy we encountered will be (or have been) address with software updates. The video quality is excellent, however, and as the device is equipped with four microphones, the sound quality is outstanding. Thanks to optical image stabilization, the footage stays steady, and there is 3-times lossless zoom too.
No doubt, if camera quality is anywhere near the top of your list, the Lumia 930 is a must to consider.