Record 200,000 Apple iPhone 4S units reserved at AT&T
83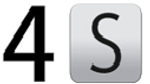 AT&T has announced that it has set a new company record with 200,000 units of
the Apple iPhone 4S pre-ordered in the first 12 hours
that the carrier started accepting reservations for the phone. The AT&T public relations department went all out saying that the carrier had seen "
extraordinary demand
" for the latest iteration of the iconic iPhone and added that it was obvious that customers wanted AT&T's network. The latter's network is the only one of the three U.S. carriers offering Apple's device that lets the handset run at HSPA speeds of 14.4 Mbit/s on the downlink, theoretically twice as fast as what is possible on Verizon and Sprint's 3G network. Furthermore, only AT&T's network allows iPhone 4S owners to talk and download data at the same time (unless you use Wi-Fi in which case simultaneous talk and data can be had on all three networks).
Last year,
pre-orders for the Apple iPhone 4 outnumbered the reservations for the iPhone 3GS
by a factor of 10
which taxed AT&T's servers, slowing down communications
. Some complained of problems yesterday getting through to AT&T to reserve an Apple iPhone 4S. The device
will be launched on October 14th
in U.S., Australia, Canada, France, Germany, Japan, and the U.K. Changes made to the current model include the addition of a
dual-core A5 processor
(replacing a single-core A4 processor),
an 8MP camera
(up from 5MP) an
improved antenna system
and the
Siri voice recognition technology
.
source:
AppleInsider