Apple iPhone 4S release date schedule and prices
34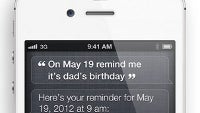 The Apple iPhone 4S is finally here. Well, not literally - it's still to hit shelves on three
US carriers on October 14th
with pre-orders starting a week earlier on October 7th and yes, that includes Sprint as well along with AT&T and Verizon. But it's not just about the States, the handset is coming to
more than 70 countries and over 100 carriers
by December. So what's the iPhone 4s release date?
Apple iPhone 4s release date
The first to get the iPhone 4S along with the US are Canada, Australia, United Kingdom, France, Germany and Japan on October 14th.
The second batch of iPhone 4S is arriving to 22 more countries on the 28th of October, and 70 more by December.
The 4S comes in three varieties and black and white colors:
16GB for $199,
32GB for $299,
64GB for $399.
So while it's not an iPhone 5, it's definitely rolling out fast. "Fastest rollout ever," Apple says. It's your opinion that counts, though, so feel free to share in the comments below.