Recent Apple hirings fuel rumors of contactless wireless charging for future iPhones and iPads
36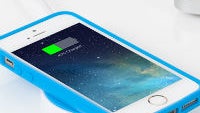 As recently discovered by The Verge, Apple has recently hired two wireless charging experts from uBeam, a startup that's working on contactless wireless charging. Further digging on Linkedin shows that Apple has hired more than a dozen people with wireless charging expertise in the past two years.
A few months ago, a Bloomberg report quoting unnamed insider sources claimed that Apple is working on a technology that would allow future
iPhone models to be wirelessly charged
. According to this report, the technology could make its way to the iPhone series starting with the 2017 models.
The most interesting thing about Bloomberg's report is the fact that Apple was said to be working on a way to wirelessly charge iPhones without the need of a wireless charging mat or stand. In this context, the fact that Apple has hired two people from uBeam bears special importance, seeing that contactless wireless charging is exactly what the startup has been working on.
uBeam's experimental technology uses ultrasonic waves to charge nearby devices. This may sound like a sci-fi dream come true, but it's worth pointing out that a former uBeam engineer has recently criticized the startup, claiming that the technology is nowhere near commercial release. Interestingly, these comments (read them all by heading over to the secondary source link below) come from Paul Reynolds, one of the two uBeam engineers which have joined the Apple camp.
At the moment, we have yet to see a real-world demonstration of efficient contactless wireless charging. As such, we can't be sure that this is indeed what Apple is working on. Furthermore, even if Apple is actually testing a contactless wireless charging technology, there's no guarantee that its efforts will ever see the light of day. Apple is routinely investigating experimental technologies and just a fraction of these get real-world implementations.
The Apple Watch is the only device in Apple's current roster that makes use of wireless charging. However, this is a contact-based technology, just like the one that Samsung and other premium smartphone makers are equipping their flagship devices with.