RealPlayer launches on Android, wants to be your one-stop media hub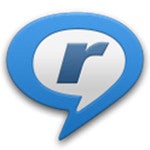 PC users are probably familiar with RealPlayer, the all-media hub from RealNetworks. Android users have taken a shining to the mobile version as well, as more than 11,000,000 users have downloaded the beta version of the app. Today RealPlayer is exiting beta and launching a stable 1.0 version, with the goal of providing a one-stop media management app for all of your videos, music, and photos. The app itself is free, although an in-app purchase of $4.99 will unlock several premium features, including an equalizer, widgets, and of course the absence of any advertising.
RealPlayer is being positioned as a true media hub replacement, so if you hate the proprietary media apps that your OEM has installed, this would be on the short list of apps to consider replacing them with. In particular PC users of RealPlayer can benefit from integration, as RealPlayer on a PC will act as an iTunes replacement, organizing and transferring your media either to or from a phone that is connected via USB.
We think it's too bad that there isn't a wireless sync option, but a lot of people still use iTunes with a cord as well, so we imagine it just depends on your preference (and perhaps your existing habits). The Android RealPlayer launch also came with a video showing off the app's functionality, so if you're interested check it out below:
Play Store
link
, source:
RealNetwork
via
9to5Google