Rare iPhone 4 prototype hits eBay, yours for $10,000
22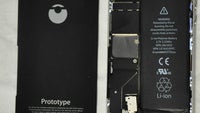 While some people collect stamps, coins, badges, or baseball cards, others prefer focusing on geekier stuff like obscure electronics or even mobile phones. The latter kind of folks are the ones that might be interested in this rare specimen that was just discovered on eBay – an
iPhone 4 prototype unit
that, surprisingly, is still operational as it has not been deactivated by Apple.
What runs on this iPhone 4 prototype is the Switchboard software framework, which Apple used to test software on the device. Another thing that makes the unit special is the rare "Deathstar" logo on its back. Speaking of which, the back plate of the device can be easily removed for quick access to the handset's internals. In case you are wondering, this particular device has 32GB of storage.
Needless to say, this iPhone 4 prototype cannot be used as an every-day device, but it will look well on your shelf of interesting items. As long as you don't mind spending a pile of cash on it, that is. Bids start at $4,500 and a $10,000 buy-it-now price has been set for the impatient.
Recommended Stories