Radio Shack reports larger Q4 loss due to weakness in phone and tablet sales; 1100 stores to close
18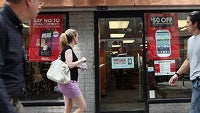 Electronics retailer Radio Shack, which has focused on smartphone and tablet sales more heavily over the last few years, is closing 1100 "underperforming" stores. The announcement was made following the release of the company's fourth quarter earnings report which showed a loss of $191.4 million for the holiday period. That was a larger loss than the $63.3 million the company lost in 2012 during the same three month period. Among the reasons for the larger spill of red ink last year, CEO Joseph C. Magnacca blamed a "soft mobility market".
After accounting for the shuttered locations, Radio Shack will still have over 4000 stores running from coast to coast. That figure includes 900 franchised locations.
Half of Radio Shack's revenues come from sales of smartphones and tablets. Net sales for the fourth quarter amounted to $935.4 million, compared to $1.2 billion rung up in the previous year. Comparable store sales were down 19%, due to lower traffic inside stores and the weakness in mobility sales. CEO Magnacca also blamed operational issues for Radio Shack's poor financial performance.
Among Radio Shack's competitors, Best Buy had a leading 13% share of mobile phone sales in the U.S.according to a November 2013 survey from CIRP. Apple was second with 11%. Big box stores like Target, Walmart and Costco combined for a 12% piece of the mobile pie last year, while Amazon accounted for 7%. Ebay was last among the names listed, accounting for 2% of handset sales. This means that Radio Shack's share of the mobile phone market was less than 2% last year.
source:
WSJ
via
FierceWireless