RIM working on BlackBerry Bold 9700 refresh?
0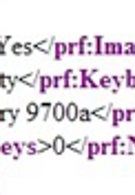 With BlackBerry under siege from Android and iPhone, RIM is apparently looking to refresh it's current Flagship Bold 9700 and make it the BlackBerry
Onyx
Delta 9700a. Quite a mouthful to be sure, but with some improved specs. First of all, under the hood will be the new OS 6 which is expected to bring RIM devices closer to the performance of the competition. Some features from the 9650 and the upcoming 9800 slider will be added and-this is great news for Berry fans-the new WebKit browser is supposed to be included on the 9700a. We
showed you
some pictures of the browser scoring a 100/100 on the Acid3 test and this alone could get BlackBerry fans worked up. Toss in 512MB of RAM and a 5MB camera and Pinocchio has become a real boy. You know how recording artists sometimes release a "Greatest Hits" album to get something out to the fans in between new album launches? We wonder if this refresh does the same thing for BlackBerry fans. It could give them some of the new features they crave (browser, OS) in the same candy bar form factor just to give 'Berry users something a little new to chew over before the 9800 Slider is introduced.
RIM BlackBerry Bold 9700 Specifications
|
Review
source:
BerryReview