RIM sues Kik for allegedly copying BBM
4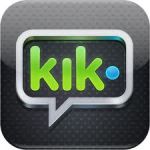 We told you recently that
Kik
, a cross-platform messaging app, was being pulled from the BlackBerry App World, and its push service was being suspended. At the time, RIM claimed that Kik had breached contractual obligations, but many thought the move was to eliminate Kik as a competitor to
BBM
.
Now, RIM has made it official, and sued Kik. RIM claims that Kik infringes on 3 patents specific to BlackBerry Messenger. They even go so far as to accuse Kik CEO Ted Livingston of using his former employment at RIM to directly copy their real-time messenger. The suit says he used RIM's plans for the future to make his own changes to Kik.
While we don't necessarily applaud
RIM
for suing Kik, we certainly understand their motivations. Kik is a threat to RIM because it stands as a suitable real-time-messaging alternative to BBM. Many current BlackBerry users are only sticking around because of BBM, so an alternative messaging app would allow them to leave.
That means that taking Kik away from BlackBerry owners is only a shot across Kik's bow. If RIM wants to eliminate Kik as a competitor, it needs to be removed from all other operating systems as well. With RIM's hold on the smartphone market
slipping
more every day, they need to do whatever they can to maintain their market share. But we'd prefer that the charge be led by RIM's engineers, rather than their legal department.
source:
David Lam
via
Electronista