RIM reports better than expected earnings, stock pops $8 after hours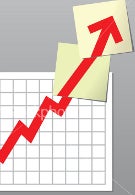 RIM reported better than expected earnings for the latest quarter. The results were so positive that the stock of the BlackBerry maker popped $8 in after hours trading. Profits rose to $628.4 million in the third quarter, or $1.10 a share, from the $396.3 million earned in the 2008 period, which translated into 69 cents per share. Wall Street was looking for $1.04. For the current period, RIM is expecting profits of $1.23 to $1.31 a share with margins of 43.5% and 4.4 to 4.7 million new subscribers. Analysts were looking for $1.12 for the current three month period.
RIM has benefited from the improving Storm touch screen device which had improved tremendously thanks to upgrades, even before the sequel model was released last month. The company will probably soon be feeling some headwinds from the Android invasion which has taken over the number one U.S. carrier, Verizon, and has lead to Big Red appointing the Motorola DROID as its flagship model in place of the BlackBerry Storm. Still, new models like the 9700 Bold and the 9630 Tour have garnered positive reviews and brisk sales. RIM has a Wi-Fi enabled sequel to the Tour and a newly revised Pearl coming and there is constant talk of a Touchscreen with QWERTY slider eventually making the lineup.
source:
YahooFinance