RIM encourages third party Android stores to submit their catalogs to the BlackBerry App World
5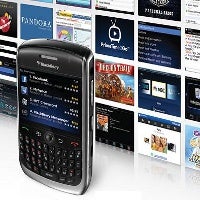 RIM's BlackBerry PlayBook wasn't exactly the most successful tablet launch out there, but while the tablet has many shortcomings starting with the high initial price and lack of native email client, RIM deserves some credit for trying to bring Android apps to its
App World
and the 7-inch tablet in particular. In its latest push, the Canadian company is welcoming third party marketplaces to bringing their catalogs to the App World.
Recently,
Handster
, a third-party Android store, introduced their whole catalog to the App World, and now RIM seeks for others. The company is also reaching out to individual Android developers to repackage their apps for RIM's catalog and has even created a microsite dedicated to the BlackBerry Runtime for Android apps.
When a developer chooses to
submit an app directly
rather than rely on a third-party app store to bring it to 'Berry users, he gets full control over the app's appearance and metadata in the catalog and that means pricing, screenshots, descriptions and so on.