RIM CEO needs more than buzz words to sell BlackBerry 10
56
This article may contain personal views and opinion from the author.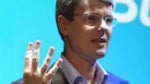 No one is quite sure what to make of BlackBerry 10 just yet, some think it will be "dead on arrival", while some think it will be a success. Not surprisingly, Thorsten Heins, RIM CEO, is one person who thinks that there is hope for the platform. A big part of the plan seems to be to target globally, which would be great because when describing the product, he doesn't have much more than buzz words to prove his point.
We have definitely liked the limited things we've seen in the form of BlackBerry 10, but the quality of the platform doesn't mean much if the CEO can't explain in interviews why the product is good
.
As part of his current world tour promoting BlackBerry 10, Heins gave an interview to South African journalist Arthur Goldstuck, a writer for MarkLives. In the article, Heins comes off as a leader who definitely excels in business strategy, but maybe not one who is all that great at marketing his company's product. Heins said that the strategy for RIM is to continue to focus on a global strategy, inclining emerging smartphone markets like Mexico, Nigeria, Indonesia, and the Philippines. RIM has had success in these areas, and is looking to continue that trend with BlackBerry 10. Heins said that the global success of BlackBerry has helped the company to compensate for losses in the USA.
On that point, Heins also says that a key to success in the USA is "trust building" because the brand doesn't hold as much power in the market that it once had.
The business strategy of RIM sounds pretty solid with its aim to build traction globally while trying to change the image of the company in the USA
. The trouble is that when Heins tried talking about the product itself, he wasn't nearly as convincing. He said:
The second thing is to get Blackberry 10 into the market and make sure it fulfills all users' requirements, such as the full LTE experience. And there will be a touch version of it. But then we must also set BlackBerry 10 apart in terms of the user experience. So it's not just competing on spec terms, not just competing on radio technology terms. We will go back to the market and we will, on top of that, compete on a new user paradigm that we are introducing with BlackBerry 10.
Saying that RIM aims to "fulfill" user requirements is okay, though we're sure his PR team would have rather he used the phrase "exceed expectations". And past that, it gets even worse. Having a "touch version" of BlackBerry isn't impressive these days, nor is an LTE radio. Those things are standards, not amazing features. The best Heins could come up with was claiming that BlackBerry would be introducing a "new user paradigm", which sounds impressive, but it really doesn't mean anything at all. Those corporate buzz words have no meaning in the marketing world. The average user (and many of the elite users) will hear the phrase "new user paradigm" and lose interest.
We may get sick of companies that exaggerate marketing by using terms like "amazing", or "magical", but at least those terms are usually referring to a specific feature of the product. The only actual feature of BlackBerry that Heins mentioned was BlackBerry Messenger, which has been the platform's killer app for years. It's a great feature, and one that is especially popular internationally, but using BBM as a talking point doesn't drum up any interest in BlackBerry 10.
We have seen interesting features in BlackBerry 10, but Heins didn't mention any of them
.
We'd like to hear better things from Thorsten Heins, but he always seems to disappoint somewhat. He's not the natural salesman that Steve Jobs was; he's not even the super-smart "what-will-he-say-next" guy like Eric Schmidt; and he's not even the "how-funny-can-we-make-him-look-in-this-frame-capture" kind of guy like Steve Ballmer. He certainly seems to have a solid grasp of the business strategy end of things, but he has not proven to be the guy who should be the face of RIM when it comes to selling the product, and that could ultimately hurt the outlook of BlackBerry 10.