RIM CEO Heins vows to continue to make BlackBerry users successful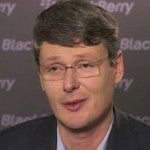 RIM CEO Thorsten Heins is on the hot seat. With RIM's stock price declining and the
company reporting a huge operating loss in the most recently announced quarter
, RIM is counting on
the launch of the new BlackBerry 10 handsets to turn things around
. Heins, of course, is the one that will receive all the praise if the move is successful and all of the heat if the company burns to the ground.
"
The pep talk is that we will continue to make the people that use a BlackBerry successful. That is really the DNA. It just allowed people to manage their life and have a very comfortable way of communicating. And with BlackBerry 10, we will take this to a whole new level."-Thorsten Heins, RIM CEO
Heins recently sat down with
Tech Crunch
to discuss a few things. One thing that stands out is his determination to make BlackBerry 10 a success, Yes, he admits to being disappointed with the delay in releasing the QNX-based operating system, but he says that
he will not sacrifice anything in making BB10 a fantastic experience for users
. When asked to give a pep-talk to disillusioned BlackBerry fans, Heins said that BlackBerry will continue making people successful. Noting that past BlackBerry models are all about communication and helping people manage their lives, the executive said that
BlackBerry 10 will take this to a higher level
.
Talking about email, Heins said that there are more ways of communicating today and while acknowledging that email is a core BlackBerry strength, it is only one part of staying connected. He brought up Facebook, Twitter and of course, BBM, as other ways to stay socially connected and from his comments, it would appear that the new 'Berry models will not only focus on email, but
on those other methods of staying in touch
.
"We keep you extremely well-connected through your various communication channels and we are making it really easy to deal with and to manage and to respond to notifications."
While RIM is getting BlackBerry 10 ready, it is also trying to get the large installed base in the Asia-Pacific region to upgrade from their BlackBerry 5 devices to BlackBerry 7 models, which the CEO sees as being competitive in today's market. And speaking of BlackBerry 7, Heins said his current daily driver is a BlackBerry Bold 9900, two BlackBerry PlayBooks (one for work) and a BB10 powered "ultra device" for the L-Series.
There is no talk of failing in his words, only success. Only time will tell if Thorsten Heins is a visionary or overly optimistic.
source:
TechCrunch