RIM BlackBerry Bold 9900 Hands-on
14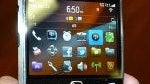 With RIM's future shrouded in uncertainty after
reporting some disappointing Q1 results
, some might be questioning what might the company be holding that might attract and entice consumers back to them. Well, we recently managed to check out the upcoming
BlackBerry Bold 9900
, and we must admit, it's something that manages to capture our attention from afar with its distinguishable BlackBerry looks.
Looking back at it, the original BlackBerry Bold 9000 did indeed reinvent the BlackBerry form factor, but since then, we've seen its design heavily implemented in a variety of RIM's product. Sure we've seen interesting form factors with devices like the BlackBerry Style and Torch 9800, but they still mimicked the Bold 9000's popular design in some way. Holding onto the BlackBerry Bold 9900 for the first time, we're utterly amazed at how
thin
this BlackBerry really is! Measuring at
10.5mm thick
, it's naturally one slim looking smartphone, but considering that it packs a 2.8" VGA touchscreen and that lovable BlackBerry keyboard, we're amazed to see it come together so eloquently with the Bold 9900. Definitely one of the more premium feeling BlackBerry smartphones we've seen, its chrome trim bezel accentuates its overall eye-catching looks.
Using the
keyboard
, we're happy to say that it's wide enough to comfortably accommodate our thumbs as the buttons easily provide that sufficient response to make the experience gratifying. Moreover, we no longer have to rely on just the optical trackpad – mainly because the
touchscreen
makes it more convenient. And when it comes to the platform experience, we have to say that it's screaming with the handset since it's packing a
1.2GHz Snapdragon processor
with BlackBerry OS 7 on board for the ride. Showing off its peppiness, navigating around the platform is pretty much effortless with the handset's overall responsive tendency.
If RIM is aiming to appease their existing base of customers, then they're undoubtedly on the right track with the BlackBerry Bold 9900. At the same time though, it definitely has the class, character, and appeal to attract curious eyes. Although there is still no concrete date on when this handset will actually launch, we're feeling some good vibes with this one so far – but let's hope it'll be launched soon!
Recommended Stories