RED Hydrogen One maker teases Lithium, a 3D camera for elitists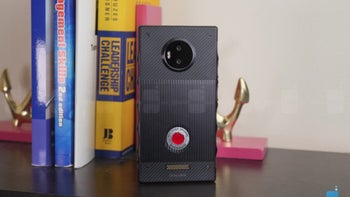 Although RED managed to sign
partnerships with two major U.S. carriers
for the distribution of its premium smartphone, the
Hydrogen One
, the device was among the
biggest disappointments of 2018
.
The
RED Hydrogen One
is a very expensive smartphone, but the main problem is the promised top-tier camera features don't justify the $1,300 retail price. Even so, it appears that RED has another surprise for those who could afford to buy the Hydrogen One or plan to purchase one in the future.
RED teased its next product
related to Hydrogen One, a 3D camera called Lithium. The camera is quite large, but
RED Hydrogen One
owners will be able to use the smartphone as a monitor and controller when taking pictures.
Engadget
has the scoop on the Lithium camera, which apparently weighs around 6 pounds (2.7kg) without battery. According to RED, "
Lithium is designed to create very high-quality H4V images. It's a lightweight stereo rig featuring two digital cinema sensors. It features zoom lenses and is one of the most compact and flexible ways to shoot high-quality stereoscopic motion pictures ever
."
Lithium is clearly not meant for the consumer market, but neither is the expensive
RED Hydrogen One
. However, if you've bought the smartphone for whatever reason, Lithium shapes up to be a great accessory if you're into filmmaking.