Quibi will support TV casting, founder blames COVID-19 for rough launch
1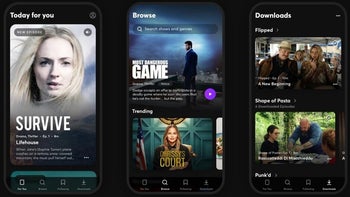 Quibi is a new streaming service focused on bite-sized shows that launched in the midst of the pandemic, just as most families were stuck at home and turning to online entertainment.
Despite not having popular flagship shows right now, Quibi has enjoyed a reported 2.7 million downloads just two weeks after its launch. Quibi founder Jeffrey Katzenberg however has told the
New York Times
that the amount of downloads the app has amassed since its start has not been satisfactory.
Even with its generous free 90-day trial, the app has reportedly kept less active users than expected, about 1.3 million. Mr. Katzenberg told NYT that the global pandemic is to blame for the lackluster performance of the new service, and has shown regret in launching it on March 1st.
Quibi's low performance is especially disappointing considering the investment behind it. In order to launch the streaming service, Jeffrey Katzenberg and former Hewlett-Packard chief Meg Whitman had to raise nearly $1.8 billion from Hollywood studios and Chinese online retailer Alibaba.
Support for streaming to TV is coming to iPhones, Android users will need to wait
In the interview with NYT Mr. Katzenberg noted that Quibi's original idea of being a mobile-only app will be changing, with support for streaming from an iPhone to TV coming this week. Android Quibi users are expected to get this feature later this month.
In addition, Quibi plans to allow for its users to share its content on social media, in an effort to keep itself visible to its target audience as time goes on.
Mr. Katzenberg also noted that eighty percent of Quibi users are reportedly finishing an episode after starting it, and shared hopes that once our lives return to normal, Quibi's numbers will show improvement, to eventually grow profitable.
Quibi is available on Apple's App Store
here
and Google Play
here
, with its 90-day free trial offer still standing.