Qualcomm unveils the Snapdragon 415, 425, 618, and 620 chipsets: mid-rangers with top-tier features
22

Qualcomm, the leading manufacturer of mobile chips, just introduced four new SoCs - the Snapdragon 415, 425, 618, and 620. All of these are mostly mid-range ones, but Qualcomm has decided to implement some features inside that are much more likely to be found in its higher-tier chips. Let's examine the specs sheets of these silicon workhorses, shall we?
Snapdragon 415 | Snapdragon 425
For starters, the new additions to the Snapdragon 400 family line (the 415 and the 425), are octa-core chipsets, each of which comprises eight Cortex-A53 cores, based on a 28nm manufacturing process. This is definitely a first for the SD400 line, which has seen quad-core silicons at most until now. The Snapdragon 415 and 425 are both based on the ARMv8 architecture, which means that they are 64-bit - nice one, Qualcomm. Both of these chipsets come with two image signal processors (ISPs), which reportedly paves the way for better camera performance.
GPU-wise, the Snapdragon 415 and 425 ship with an Adreno 405 GPU. It supports display output of up to 1200 x 1920 pixels, allows hardware decoding of 1080p videos, and boasts support for DirectX 11.2 (provided that the powered handset is running Windows for phones). But what sets the Snapdragon 415 apart from the 425? Data transfer speeds. The SD415 comes with an X5 LTE one (up to 150Mbps download speed/50Mbps upload speed), while the SD425 flaunts an X8 LTE modem (beefier at 300Mbps maximum download speed; 100Mbps upload).
Snapdragon 618 | Snapdragon 620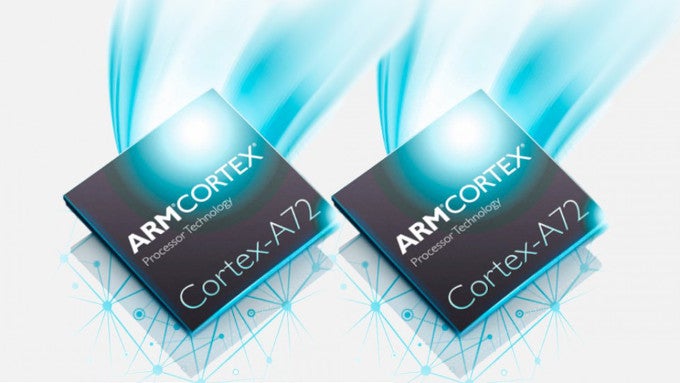 These two new representatives of the Snapdragon 600 line are the first Qualcomm chips to employ the brand-new Cortex-A72 cores, which we previewed a few days ago. As a refresher, ARM claimed that the Cortex-A72 processor delivers roughly twice the performance typical for the Cortex-A57 processors, which means that Qualcomm's newest chipsets can potentially run circles around the likes of the top-tier Snapdragon 805 and Snapdragon 810. But we digress.
The Snapdragon 618 is a 64-bit hexa-core chipset, which makes four Cortex-A53 cores sing in concert with two Cortex-A72 ones in a big.LITTLE ensemble. There's no exact word what the GPU in this new chip is; Qualcomm only claims that it's a next-gen Adreno unit. It's speculated that we might be dealing with a member of the upcoming Adreno 500 series. Whoa. The SD618paves the way for 4K video recording and hardware decoding. The chipset can power displays, the resolutions of which is no bigger than 1600 x 2560 pixels.
The Snapdragon 620, on the other hand, comes with eight cores – four Cortex-A72 ones and four Cortex-A53 ones, once again ticking under the big.LITTLE architecture. The rest of the specs are similar to the Snapdragon 618 – 2K internal display support, 4K recording and playback, as well as a next-gen Adreno graphics-crunching unit. Both of these chipsets also sport X8 LTE modems, which means that you can enjoy download speeds of up to 300Mbps and upload ones of no more than 100Mpbs. You can also pair these new chips with camera sensors that are no larger than 13MP in size.
Qualcomm's newest crop of systems-on-chip will all make an appearance sometimes in the second half of the year. Undoubtedly, they'll bring upcoming mid-range devices one step closer to their higher-spec'd flagship cousins.
Recommended Stories