Qualcomm turns to Samsung to supplement production of its 28nm Snapdragon S4 chipsets and LTE radios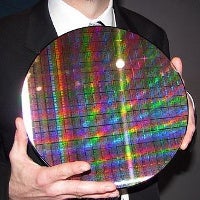 The TSMC foundry warned numerous times that it just
doesn't have enough equipment to produce enough 28nm chips
, with strong demand from Qualcomm and others. Qualcomm in its turn, warned at its last quarterly results press conference that
the fab troubles with 28nm yield may result in less Snapdragon S4s sold due to supply constraints
, an issue it hoped to resolve turning to alternative foundries.
After
booking up UMC
, which is to start making S4s in the October-December quarter, Qualcomm was forced to turn to a direct competitor in the mobile chipset department - Samsung, which actually makes and sells its own ARM-based silicon under the Exynos brand. The latest
Exynos 4412 in the Samsung Galaxy S III
, for example, is made with the 32nm process, which is of the same family that the Snapdragon S4 is made with.
Samsung already makes the bulk of iPhone and iPad processors in its
Austin, Texas facility
, and adding Qualcomm to the list of customers will undoubtedly be a recognition to its chip manufacturing prowess, while Qualcomm can finally overcome the demand outstripping supply situation. The Qualcomm-Samsung deal is kept under wraps, though, so we don't know when S4s will start being made by the Koreans and where, or how much of those can Samsung churn out.
Qualcomm has to make a bunch of 28nm LTE radios for the next iPhone
as well, so these might be in there too.