Qualcomm and Nvidia looking to tap UMC for supplеmental 28nm production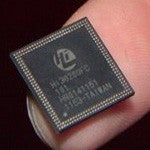 Last week, we reported on speculation that Qualcomm and Nvidia may be shopping around for production suppliers that can supplement TSMC's 28nm production capacity. The 28nm chip manufacturing process is commonly used to produce graphics and processor units for tablets, smartphones, and computer graphics cards. It now appears that Samsung, GlobalFoundries, and United Microelectronics are being approached to potentially provide additional production output volume for 28nm chips.
TSMC has been struggling to keep up with demand, announcing several increases in its 28nm production process. However, such increases in production capacity aren't expected to ease the output shortage until early 2013. Qualcomm and Nvidia are likely shopping for suppliers to augment production in anticipation of the continued shortage over the next year. Smartphone and tablet sales containing their chips continue to be strong.
No new partnerships have been announced between the companies. We will continue to monitor the story and report on the progress.
source:
DigiTimes