Qualcomm talks Snapdragon 800 with Quick Charge 2.0 and Voice Activation
34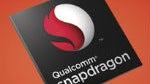 Less than a week ago, Qualcomm was bragging about
Quick Charge 1.0
, which helps your device to charge 40% faster than normal, but that is already old and busted, because Qualcomm is already talking about the next big things: Quick Charge 2.0 and Snapdragon Voice Activation. Both are features that will be part of the
Snapdragon 800
series of chips which are expected to hit the market in the second half of the year.
Qualcomm makes the Snapdragon 800 chips sound pretty amazing, with quad Krait 400 cores at up to 2.3 GHz each capable of UltraHD video, high-end 3D gaming, 7.1 surround sound, and up to 55MP image captures (because of course all next-gen smartphone cameras will be capable of 55MP.) Of course, given what we've seen from the
Snapdragon 600
, the 800 should be pretty impressive on benchmarks, even if the real-world difference may not be that big.
Quick Charge 2.0 is said to make charging up to 75% faster than products without Quick Charge technology, and Qualcomm claims that in just 3 hours it was able to charge a device that would normally take 7 hours. Even better, Quick Charge 2.0 devices will be able to use Quick Charge 1.0 chargers, but you probably won't want to bother, because then you'll only get 1.0 speeds.
The other big addition to the Snapdragon 800 is Snapdragon Voice Activation, which will allow you to wake your device from standby or airplane mode using a voice command. Waking from airplane mode is interesting, because it means you don't need an Internet connection. Voice Activation will be always-on, and "low-powered".