Qualcomm outs its fastest Cat. 10 LTE modem to date, ripe for next year's flagships
10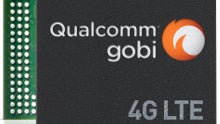 Qualcomm did its LTE song and dance again, and just announced its newest LTE Category 10 modem Gobi 9x45, which will bring up to 450 Mbps download speeds to your phone or tablet.
The company mentioned that the new edition is up to 1.5 times faster than Category 6 LTE, and uses the trendy 20nm technology, ensuring low power consumption, 30% less board area, and less heat. It also supports all major standards, like GSM, DC-HSPA, CDMA, EVDO, as well as a full set of frequency bands, making it quite the global undertaking. GPS, Glonass, and Galileo are rolled in for the most accurate navigation possible, and there are plenty of new features added
With the new Gobi envelope you will get the perks of dual SIM LTE, broadcast, and VoLTE, and dual SIM LTE. The smaller footrpint should result in more compact Snapdragon chipsets, too, and Qualcomm says the Cat. 10 LTE chip is now sampling with customers for entering devices next year. Something tells us that those will be bundled with Snapdragon 810, which bodes well for the spring crop of flagships.