Qualcomm exec who called Apple's A7 a "gimmick" has been reassigned
71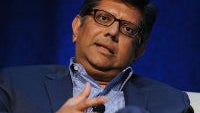 Sometimes the truth doesn't set you free. Eventually, Apple's 64-bit A7 processor will provide real benefits, but right now it is mostly a
gimmick
. Unfortunately, while we in the media are allowed to say that, Qualcomm's now ex-senior VP and chief marketing officer Anand Chandrasekher said the same, and the fallout has been pretty harsh for him.
Qualcomm
recanted the statement
very quickly, which makes perfect sense because the chip-maker is likely already working on its own 64-bit processors for future Android devices. Now, it seems that the company has reassigned Chandrasekher, and tried to do it quietly. Chandrasekher has even been removed from the company's leadership page on its website.
Of course, telling the truth is one thing, but Chandrasekher likely went too far by saying that there was "
zero benefit
" that a consumer would get from Apple's A7. The benefits are minimal right now, but the system itself and Apple apps should see slight speed boosts; and, as more apps are optimized there will likely be more benefits to come, but that will be a slow process.