Qualcomm demoes an LTE Windows 8 tablet with Snapdragon S4 chipset
4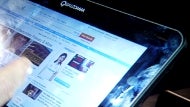 If you want to go LTE, there isn't much other good choice out there but Qualcomm's integrated Snapdragon chipsets. We bet we are going to see the
S4 variety with an LTE module
tacked on in quite a lot of phones and tablets this year, and Qualcomm just confirmed our suspicion during its keynote CES presentation.
The CEO Paul Jacobs took out an LTE tablet with the
powerful Snapdragon S4
, running a developer preview version of Win 8, in order to demonstrate the fanless, long-lasting battery future of Windows. We've seen this
early preview run on Qualcomm gear before
, but the prototype wasn't with the new LTE chipset that is staged to hit a number of smartphones and tablets later in the year.
Touching and swiping was demonstrated to be buttery smooth, and these ARM-based tablets with Windows might hold a lot of potential, provided that Microsoft plays its cards right and releases at least a full-fledged Office version for them, if not thousands of apps at launch.
via
SlashGear
Qualcomm Works with Microsoft to Deliver Snapdragon S4 Processors with LTE Connectivity for Windows 8
- 2012 CES Marks First AT&T LTE Demonstration of Windows 8 Powered by Snapdragon S4 Processors -


LAS VEGAS and SAN DIEGO – January 10, 2012 – Qualcomm Incorporated (NASDAQ: QCOM) today announced at the 2012 International CES show that it is collaborating with Microsoft Corp. to demonstrate pre-release Windows 8 on Snapdragon™ S4 processors with LTE connectivity support. Demonstrated on the AT&T 4G LTE network for the first time, Windows 8 powered by Snapdragon with LTE and 3G/4G wireless support enables the connected standby experience with lower power consumption recently demonstrated by Microsoft, and provides Windows 8-based PCs including tablets, convertibles and notebooks with wireless broadband speeds and advanced connectivity solutions to help enable fast, productive experiences for users worldwide. Demonstrations of pre-release Windows 8 on the Snapdragon S4 MSM8960 reference hardware tablet with LTE were held during Dr. Paul E. Jacobs' opening keynote address earlier today. Jacobs' keynote was part of the Technology and Evolving Countries (TEC) Program, focused on the role mobile technology plays in global innovation and economic growth in consumer electronics.
"Qualcomm is excited to be working with Microsoft to showcase the world's first demonstration of Windows 8 powered by our Snapdragon platform with LTE connectivity on the AT&T 4G LTE network," said Luis Pineda, senior vice president of computing and consumer products at Qualcomm."Our Snapdragon S4 processors' LTE network support and comprehensive software and hardware integration help deliver greater flexibility and connectivity options to Microsoft and device manufacturers. PC – including tablets, convertibles and notebooks – and other device makers alike continue to choose Qualcomm processors for the best combination of processing performance, efficient power usage and wireless connectivity on a single platform."
By integrating LTE, Qualcomm provides a superior connectivity solution that is easy to use and allows users to take advantage of next-generation networks and stay connected almost anywhere they go. Snapdragon-enabled Windows 8 PCs, including tablets, convertibles and notebooks, will also be enhanced by Qualcomm's mobile Internet connectivity platform, Gobi™, which provides advanced 3G/4G connectivity and integrated LTE world mode support. Qualcomm's Gobi 4000 platform allows device manufacturers to offer both LTE/HSPA+ and LTE/EV-DO designs to meet the growing demand for embedded 3G/4G connectivity in mobile devices worldwide.
As one of the largest providers of wireless chipset and software technology in the industry, Qualcomm has one of the most diverse chipset and software product portfolios, spanning multiple device classes. Qualcomm's broad product portfolio, including Snapdragon processors and Gobi mobile Internet connectivity solutions, supports Windows 8. Qualcomm is one of the only silicon providers to date positioned to support both Windows smartphones and PCs.
"Qualcomm's technologies help bring high-performance, power-efficient solutions to consumers," said Aidan Marcuss, senior director of Windows Core Marketing & Ecosystem, Microsoft. "In many cases today's consumers and businesses not only desire but require always- on, always-connected computing devices. Qualcomm and Microsoft are committed to our continued collaboration to bring innovative, top-performing devices to consumers around the world."
"Today's customer demands a more powerful and faster network connection which plays to Qualcomm's key technology strengths for designing leading-edge chipsets," said Michael Stice, vice president of computing devices, emerging devices, AT&T. "We are working with Qualcomm to enable the next generation of mobile PCs and tablets enhanced by our 3G and LTE networks."

Attendees can see pre-release devices running Windows 8 powered by Snapdragon S4 processors, along with the newest innovations, at the Qualcomm exhibit at the 2012 International CES, located in the Las Vegas Convention Center, South Hall, Upper Level #30313. For more information on Qualcomm's Snapdragon processors visit www.qualcomm.com/snapdragon.