Quad-core Motorola Atrix 3 concept sounds too good with 3300mAh battery, HD screen and 2GB of RAM
51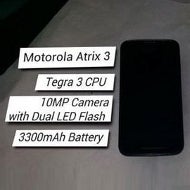 Purported image of a Motorola Atrix 3 is making the rounds in the blogosphere now, but it was actually sent as a wishful thinking piece to a concept phone website at first.
Still, the listed specs are worth being entertained and discussed, as the thin Atrix 3 is listed with a quad-core Tegra 3 processor, the mighty 2GB of RAM, HD display and 10MP camera with dual LED flash. Above all, with 3300mAh battery, like the RAZR MAXX marathon runner.
This dreamy Atrix 3 is actually not that far-fetched since Motorola already has two phones for China Mobile with HD displays - one with Super AMOLED Advanced and one with IPS-LCD, not to mention that one of them, the
Motorola MT917
, has a 13MP camera with dual flash on the back.
Now an Atrix 3 like that should obviously be thin as well, but it has to follow the RAZR's design paradigm in order to fit a 3300mAh juicer inside this concept here, so we'll see what the future holds, hopefully Motorola will be announcing its next steps at the MWC in a few days. What do you think, would you like to see such a monster phone from Motorola like this here Atrix 3 concept land in the US for the summer?