QMUL researchers team up with Nokia to bring sci-fi-like charging tech to the world
11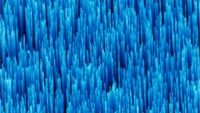 We recently learned about uBeam – the
startup that uses piezoelectricity and ultrasound generators
in order to wirelessly charge batteries across great distances. Well, looks like scientists from the Queen Mary University of London (QMUL) are looking to one-up uBeam's solution, by using a similar concept, only omitting the need for any chargers at all. Instead, the new tech gets its electrical charge from any sound that reaches the phone.
It is based on a concept first presented by Korean scientists, 4 years ago. It involves the use of nanorods, made by zinc oxide materials (a.k.a nanowire). When under physical stress, ZnO nanorods convert the energy from the motion into electrical energy. In the case of nanowires, physical stress can easily be applied by sound vibrations, since they are so sensitive. The challenge that remained was to pack a huge number of nanowires into a device in order to produce a charge big enough to power it.
Well, Nokia partnered up with the QMUL research team in order to build one such prototype device. The phone is the same size as a Nokia Lumia 925 and can charge itself, just by "hearing" waste sound from the street, music, or even speech. It generates 5 V, which is pretty much the power output we get from any regular phone charger.
We can't help but wonder, whether such a phone will be able to play music infinitely (philosoraptor would love to get his claws on such a handset)
via:
Gismag
,
Pocket-lint