Problems with taptic engine production have caused the delay in Apple Watch shipments
8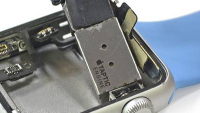 According to a report in today's Wall Street Journal, problems with the Apple Watch's taptic engine are largely responsible for the long wait times that buyers have to endure before receiving their timepiece. Apple has relied on a pair of suppliers for the part, which is designed to simulate the feeling of being tapped on the wrist to attract the attention of Apple Watch wearers. The companies are China's AAC Technologies Holdings Inc. and Nidec of Japan.
AAC Technologies Holding's taptic engine had a tendency to "
break down over time
." According to those who have some inside knowledge of what's going on in Cupertino, Apple was so concerned about AAC Technologies' taptic engine that it destroyed some already completed Apple Watch units for fear that they would deteriorate. So Apple turned to Nidec to produce the part. But since it started late in the game, it will take some time for Nidec to build the number of taptic engines that Apple needs.
The taptic engine works by activating a motor that moves a small rod back and forth causing the sensation of being tapped. The engine is also used to send a user's heartbeat to other Apple Watch users. Since it will take some time for Nidec to catch up with taptic engine production, Apple has told other suppliers to slow down production of components until June. Apple retail chief Angela Ahrendts says that retail stores will start to get shipments of the Apple Watch in May. Right now, those who want to order the watch have to do it online and those orders won't be received until June at the earliest.
There is some talk that Apple will add another contract manufacturer to the team. Currently, it relies on Quanta to produce the timepiece. But Foxconn, one of the companies that assembles the iPhone, has been in early tests to see if it can also be relied on to manufacture the watch. If Apple can get Nidec to catch up with taptic engine production, and if Foxconn can help Apple by assembling a large number of watches, we could see lead times for the Apple Watch disappear.
source:
WSJ
Recommended Stories