Pricing for T-Mobile's Touch Pro2 is revealed?
5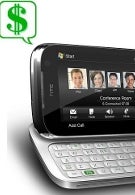 This article has been updated on August 05, 2009.
If you are a cellphone power user, or just an ordinary Joe who likes to have oodles of features at his fingertips, you probably have August 12th circled on your calender. That is the date when the HTC Touch Pro2 will make its U.S. debut at T-Mobile. We have already
reported
the launch date to you and now we have some idea on the pricing. Tmo News has heard from a tipster they call "very trusty" and he reports that the carrier will offer the handset for
$299.99
*Update*:
it now seems that the two-year contract price will be set at
$349.99
.
If you're waiting around for one of the other carrier's to offer their version of the Touch Pro2, Verizon's model is apparently already in its inventory system which means that it shouldn't be too much longer for Big Red's offering, and Sprint is expected to launch on September 3rd as
we told you
last week. So far, there is very little information on AT&T's model of the handset, known as the HTC Fortress.
HTC Touch Pro2 Preliminary Specifications
|
Review
(European Version)
source:
TMONews