Preliminary finding hints to some pricy data plans for the Samsung Galaxy Tab for AT&T
7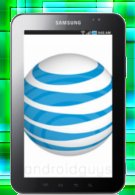 With so many tablets hitting the airwaves of late, there appears to be a common bond that all of the announced tablets have in common – what are their prices; contract and non-contract to be exact. Still considered to be the one million dollar question for all, we're still waiting for one of the four major carriers to come out of the dark and announce something regarding the Samsung Galaxy Tab.
Although there are plenty of speculations as to what kind of figures we may potentially see, there is already a preliminary finding in regards to the data plan structure we might see end up happening with AT&T's variant. Reports hint that AT&T is conducting trainings for the Galaxy Tab, and that some preliminary figures have surfaced that details the pricing structure for the Tab's data plan. From the sound of it, there are going to be three offerings - $15/100MB for 1 day, $30/300MB for 7 days, and $50/1GB for 30 days.
Quickly taking a peek at those figures, long time AT&T customers might be appalled with them, but it'll undoubtedly limit some of those heavy users by having them resort to connecting via Wi-Fi for their usage.
Samsung Galaxy Tab Specifications
|
Preview
|
Hands-on
source:
AndroidGuys