Samsung Galaxy Tab Hands-on
9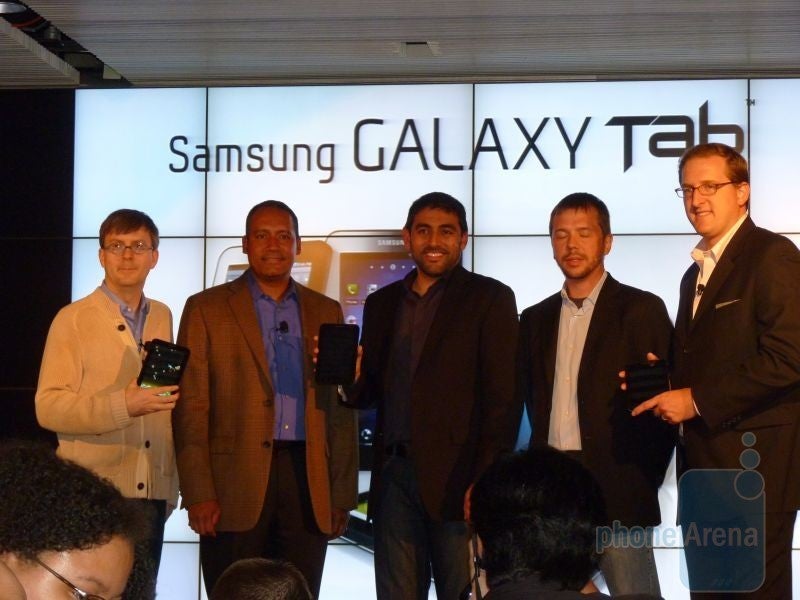 Gearing up for an eventual arrival this coming holiday season, the Samsung Galaxy Tab has finally hit the cooling shores of the US today; somewhat. If you haven't checked it out already, please catch up on all the happenings during Samsung's media event in New York City at our
live coverage article
which sums up all of the expected and unexpected announcements. So let's get the most striking thing out of the way – the Samsung Galaxy Tab, much like the manufacturer's line of Galaxy S handsets, will be making its presence known on all four major domestic carriers. Going into the event, there were some resounding evidence that Verizon, AT&T, and Sprint would see the light for this Android powered tablet, but it appears as though T-Mobile will also be dining in as well. However, the most eagerly anticipated question is still lurking about unanswered – what kind of pricing are we going to see? Regretfully, Samsung did not reveal any pricing for the upcoming tablets, rather, they stated that it would be the carriers who would eventually make that important piece of information known. Other news surfacing from the event include the fact that all Galaxy Tabs will be 3G devices; meaning that there won't be any 4G loving for Sprint's version. In addition, there won't be any phone functionality on board with any of the variants – so it may provide us some insight as to what kind of pricing we'll see with it. Even though Samsung finally let the beans out for the carrier versions of the Tab, none of them were specifically on-hand for the event – so we were left with only the international version of the Tab which was announced back during IFA.
As for the device itself, we were able to check out the version that Europe will end up seeing – which is to say different from the prototype we checked out not too long ago. The Samsung Galaxy Tab feels like any other device we've seen the Korean manufacturer create before – meaning that it's solidly built despite the heavy use of plastic materials. The 7" tablet is very light weight and can be easily held in one hand – plus we saw that it could potentially be placed in a pocket, but extremely tight. Sure it would've been nice to see a Super AMOLED panel, but instead, we're greeted to a decent 7" TFT display which has a resolution of 1024 x 600 – which makes for some good pixel density. Ultimately, the display is more than suitable thanks to its responsiveness, natural looking color tones, and good viewing angles. There is a 1.3-megapixel front facing camera while a 3-megapixel one with an LED flash can be found on the rear – which of course is decked out in ivory white. Still, it's by far one of the better looking and designed Android tablets out there in the market, but still doesn't radiate the iPad's premium feel.
Running under the hood is your usual 1GHz Hummingbird processor which does wonders when combined with its Android 2.2 powered platform. In the short time we checked it out, we were pleased with the overall speed and responsiveness the device was exuding, however, it distinctly reminded us of any of the Samsung Galaxy S variants out there. At its core, the Samsung Galaxy Tab is everything we see on a Galaxy S phone – but on a much larger scale. Videos played smoothly while the Flash 10.1 enabled browser magically rendered our site perfectly as you would see it on a desktop computer. Naturally, Samsung's Media Hub will be play a crucial role with the device since it'll be able to play and share various content. All in all, the Galaxy Tab is a decent Android entry in the tablet world, but with more refinements in the platform, it could shed some of its mobile roots and truly transcend to a fully decked out tablet.
Finally, there were some interesting accessories on hand at the event that should appease those who already have the faint urge to already purchase the device. Although it would seem rather large, there will be a dash mount available for the Galaxy Tab which needless to say would offer more than enough visibility in aiding you get to your destination. Moreover, Samsung also showcased an add-on 87-key keyboard which will make typing slightly more natural while providing some leverage to the Tab. We heard the good news, but without a doubt, pricing is all that's left with the Tab at this point. So it's safe to say that it's going to be quite interesting to see what the carriers will diligently end up doing with it.