Pregnant woman falls asleep on her Apple iPhone 7 and ends up with second degree burns
85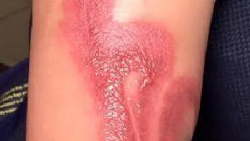 If you usually watch streaming videos on your charging smartphone while lying in bed, you might want to keep this story in mind. In Australia, Melanie Tan Pelaez had her
Apple iPhone 7
plugged in while at the same time she had hit the sack. She fell asleep, and when she awoke the next morning, something was wrong. Her right arm was red, and she felt pins and needles up and down the length of it.
After taking a trip to the hospital, Doctors told her that she had suffered a second degree burn which had come from a foreign object. At the ER, Melanie was treated and released (by the way, did we tell you that she is pregnant? No damage was done to the fetus). The doctors told Ms. Tan Pelaez to check around her bed to find the source of her burn. When she returned home, she realized that her iPhone 7 had caused the injury. Markings on her arm matched the phone and the charger.
Melanie then took her phone to the local Apple Store, where she was told that the unit lacked a certain distinctive smell that would have proved that it was at fault. Still, her phone was packed up and shipped to Cupertino for testing. While Tan Pelaez was offered a new iPhone 7, she refused to take it because she no longer trusts the device even though she has been an iPhone user from the very first model. She has not yet filed a lawsuit against Apple, although that remains a possibility. Meanwhile, the victim has met with a plastic surgeon and some painful surgical procedures appear to be on the horizon.
Covering a charging phone with a body or a pillow prevents any air from circulating. That makes the phone extremely hot. If you stream movies while stretched out in bed, make sure that you leave room for your phone to circulate air. And unplug the phone from the charger if you must use your phone in bed. Otherwise, you could find yourself waking up with severe burns on your body, just like Melanie Tan Pelaez did.
Thanks for sending this in!
source:
News.com.au
Recommended Stories