Pre-order the Sprint Nexus 5 from Best Buy now; phone will launch this Friday
23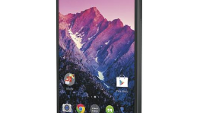 The
Nexus 5
might be delayed for some of those who ordered from the Google Play Store
, but the Sprint variant of the phone is now listed on the Best Buy web site. The pricing for the 16GB stock Android handset is exactly the same as you will find in Sprint's online store, which is $149.99 with a signed two year contract or $449.99 off-contract.
The price in the Google Play Store is $349 off-contract for the 16GB model and for $50 more, you can purchase the 32GB version. Which is actually more than what you can do from the big box retailer's site, which for the moment is only taking pre-orders for the model. Meanwhile, some who ordered the device from Google when it launched on Thursday, have
received confirmation that their phone is on the way
.
Sprint is going to launch the phone this coming Friday
, so if you're looking to buy the Nexus 5 on contract, you just have to make it past this week with your current handset. Think you can handle that, or would you rather pay $200 more, order from the Google Play Store, and take your chances on when you might actually receive the phone?

Pre-order the 16GB Sprint Nexus 5 from Best Buy
source:
BestBuy
via
AndroidCentral