Pre-alpha ICS running on Kindle Fire needs your help
0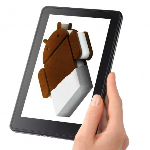 The xda-developer community is a place where geek dreams come true, and the newest dream is to have Android Ice Cream Sandwich running on the $199 Kindle Fire. That dream is much closer to reality because of JackpotClavin, who has released a pre-alpha version of Ice Cream Sandwich for the Kindle Fire. Unfortunately, the reason the ROM was released pre-alpha is because there is a wonky bug that the crew of xda just can't figure out.
The ROM looks pretty good over all. It's a bit laggy, and as you would expect, not everything works. There are some audio and video glitches, but the biggest issue is that the system doesn't read the internal storage of the Fire properly. As Galaxy Nexus owners may have noticed if you've dug into a file explorer, even though there is no SD card on the device, the system sets up the internal storage as if it were an SD card, so apps looking for data that would be on an SD card on other devices can still be found in that virtual directory. This ICS ROM for the Fire can't figure out that virtual directory, so many apps don't work properly, as you can see in the video below.
So, if you're a developer and you want to try helping the team fix this issue, this ICS ROM could be a lot closer to being a workable option for Kindle Fire owners, and everyone wants a $199 ICS tablet, right? If you aren't a developer, we'll be keeping an eye on the situation, and we'll let you know when someone figures it out.
source:
xda-developers
&
liliputing
via
The Verge