Pot, meet kettle: Steve Jobs called Andy Rubin a "big, arrogant f**k"
63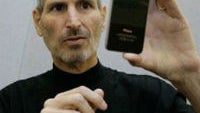 Regardless of if you prefer to see Steve Jobs as a visionary leader or a superb salesman, the debate is over when it comes to his personality. The general consensus is that Steve Jobs was nothing if not a passionate mercurial man with bouts of kindness and bouts of being an unbelievable jerk. Which is why it was amusing to hear that Jobs actually called Android founder Andy Rubin a "big, arrogant f**k".
This is one of the more inflammatory quotes in a new book about Jobs, the iPhone, and Android by Fred Vogelstein, called
Dogfight: How Apple And Google Went To War And Started a Revolution
. Given that Steve Jobs was said to constantly believe that he was the smartest man in any room he was ever in, correct or not, maybe he shouldn't have been calling anyone "arrogant".
Of course, the real meat of the book is covering the inside story of both the iPhone launch as well as the early development of Android, because we all already know about Jobs' rants about Android. It turns out that Andy Rubin knew that Android might have to see some major changes once the iPhone was announced; and, while Android was ready to launch in late 2007, the team had to go back to redesign the system because of how nice the iPhone UI was, and because the Android UI "looked so... nineties".
The battle eventually got personal with Jobs meeting with Larry, Sergey, and Schmidt about Android and declaring the platform "a f**cking ripoff of what [Apple was] doing". Apparently, the Google founders assured Jobs that Android would be different from the iPhone, although once he saw the G1, Jobs believed them to be lying.
And, the rest is history that most of us already know. The iPhone came out of the gate strong, but stalled in terms of software innovation, while Android iterated quickly behind Google's software and a multitude of hardware manufacturers. Now, Android is the king of the mobile world in terms of market share, although Apple is still pulling in quite a respectable amount of the mobile profits.
Overall,
Dogfight
sounds like quite an entertaining book, and one we're definitely looking forward to reading.
Recommended Stories