Poll: which one are you planning to buy – the Note 7 or 2016 iPhone / Plus?
99+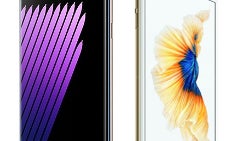 We are officially in the second half of the year and, as you probably know, there's a few exciting things left to happen in the world of mobile before 2016 wraps up. First up, we have the
Samsung Galaxy Note 7
, which is about to be announced
in a week
. Then, IFA 2016, where we will surely see a slew of interesting handsets. Then, some time in early September, Apple will unveil its
2016 iPhones
. And, as if that's not exciting enough, we are also expecting Android 7 Nougat and iOS 10 to hot our smartphones in a couple of weeks as well!
It was back in 2015 when Samsung started pulling its event that announces the new Note series
a bit earlier in the Summer
. While it was usually done at the start of IFA, in the beginning of September, last year, it was done in mid August, and this year, we get to see the new Note at the start of August. The reason for this, numerous leaks and reports claim, is the fact that Samsung want its top-tier smartphone to get some time to gain momentum in sales before Apple releases its ever-popular iPhone.
Whether this tactic is actually viable when we are talking about such high-class smartphones may be a bit arguable. Most iPhone fans are not very likely to grab a Note, just because it comes a month early, and most Android users are very well aware that the Note smartphones are among the best that the platform has to offer. But we could we wrong, so we decided to ask.
Have you already made up your mind on which of the two smartphones – the
Note 7
of the
2016 iPhone
/
Plus
– you are going to get, or are you waiting to see what both have to offer before you make a decision?