Poll results: are you getting the Apple Pencil or Smart Keyboard for your iPad Pro?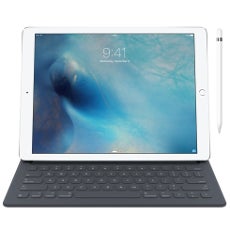 We asked you last week if you are planning to get any of the two expensive but unique accessories - the
Apple Pencil
or Smart Keyboard - to go with your freshly acquired
iPad Pro
, and it turned out that a lot of you are, with a good 26% of respondents saying they will acquire both. The Pencil has an advantage with about 20% of the votes, while 9% say they are longing for the Smart Keyboard only. Nevertheless, the percentage of people that say they will acquire neither is the largest - 45% they will stick with the
iPad Pro
only, no extra cash spent.
Apple's new $99 stylus, called simply
the Pencil
, is now going for north of $200 on eBay right now, as those who ordered it won't be getting it for a few weeks, it seems. The accessory was recently taken apart, and found very hard to make or repair, which might be one of the reasons for the delayed order shipping. In any case, the initial tests of the Apple Pencil are
producing some drool-worthy sketches and drawings on the iPad Pro
, which might entice more folks to grab the accessory to go with Apple's largest tablet.
The Pencil is not the only indispensable accessory that Apple is offering for the iPad Pro, though. If you want a real productivity machine, in addition to the graphics designer dream that would be an iPad Pro + Apple Pencil combo, you'd have to get the new Smart Keyboard, too. It's a thin and portable full‑size keyboard that connects to the iPad Pro with the Smart Connector interface that allows for a two‑way exchange of power and data. The tactile response of the keys has received good reviews as well, but, at $169, all these niceties will cost ya.