The Apple Pencil is found amazing to draw with, very hard to repair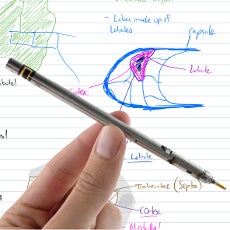 The $99
Apple Pencil
shapes out to be a fantastic tool for drawing, annotating, doodling or simply jotting down ideas around text and comments during lectures, as you can see from the random examples in the slideshow below. Apple's new stylus is
currently in short supply
, going for more than double the price on places like eBay, as the first orders that got through won't be fulfilled until next month, it seems.
There is a reason for the Pencil accessory to be with limited availability at launch, though, and it might not be that Apple is testing the waters to gauge how many people that got the
iPad Pro
will get the stylus, too. It turns out that the
Apple Pencil
is simply very, very complicated to make, as affirmed by iFixit during their obligatory teardown. Not only does it have an extremely tiny motherboard that is folded in half to fit, but also a somewhat twisted, tubular Li-ion battery, as well as a sensor behind the pencil's nib that consists of numerous miniature ticks which help with the amazing pressure sensitivity. Needless to say, with all the fighting that went on during disassembly, iFixit had given a repair score of 1 out of 10 for Apple's complex stylus undertaking.
All that build complexity is not just for the sake of it, too - early tests of the Apple Pencil are producing some amazing results on the
iPad Pro
, even with folks who are by no means astute graphics designers or artists per se. Palm rejection is reported to be top-notch, and writing angles, as well as pressure recognition are apparently leaving the user with the feeling that they have a real pencil and paper to sketch or scribble with. Check out some of the Apple Pencil creation examples from regular folks below, and tell us what you think about them.